Hey y'all, it's your friends from Gram's BBQ here, 
Ready to get rewarded every time you indulge in your favorite smoky, savory, Southern-style BBQ delights? Well, you're in luck! Introducing Gram's BBQ Clover Rewards – our way of saying 'Thanks y'all' for being our awesome customer! 
Here's How It Works:
Earn While You Feast: For every dollar you spend on our lip-smackin' BBQ, you earn ONE point! That's right, dig into our succulent ribs, savor our tender brisket, or indulge in a pulled pork sandwich, and watch your points (and savings!) soar. Graphic: $1 = 1 point)
Savings, Straight Up: Rack up 100 points, and BAM! You get a tasty $10 off your next order. It's like we're paying you to eat BBQ. How cool is that?
Check-in with Clover: All set to order? Hold your horses! Make sure you check in on the Clover app before you place your order. Just a few taps and you're all set to accumulate those points.
Easy-Peasy: No cards, no fuss, no muss. Just the Clover app and your appetite for some darn good BBQ. It's that simple!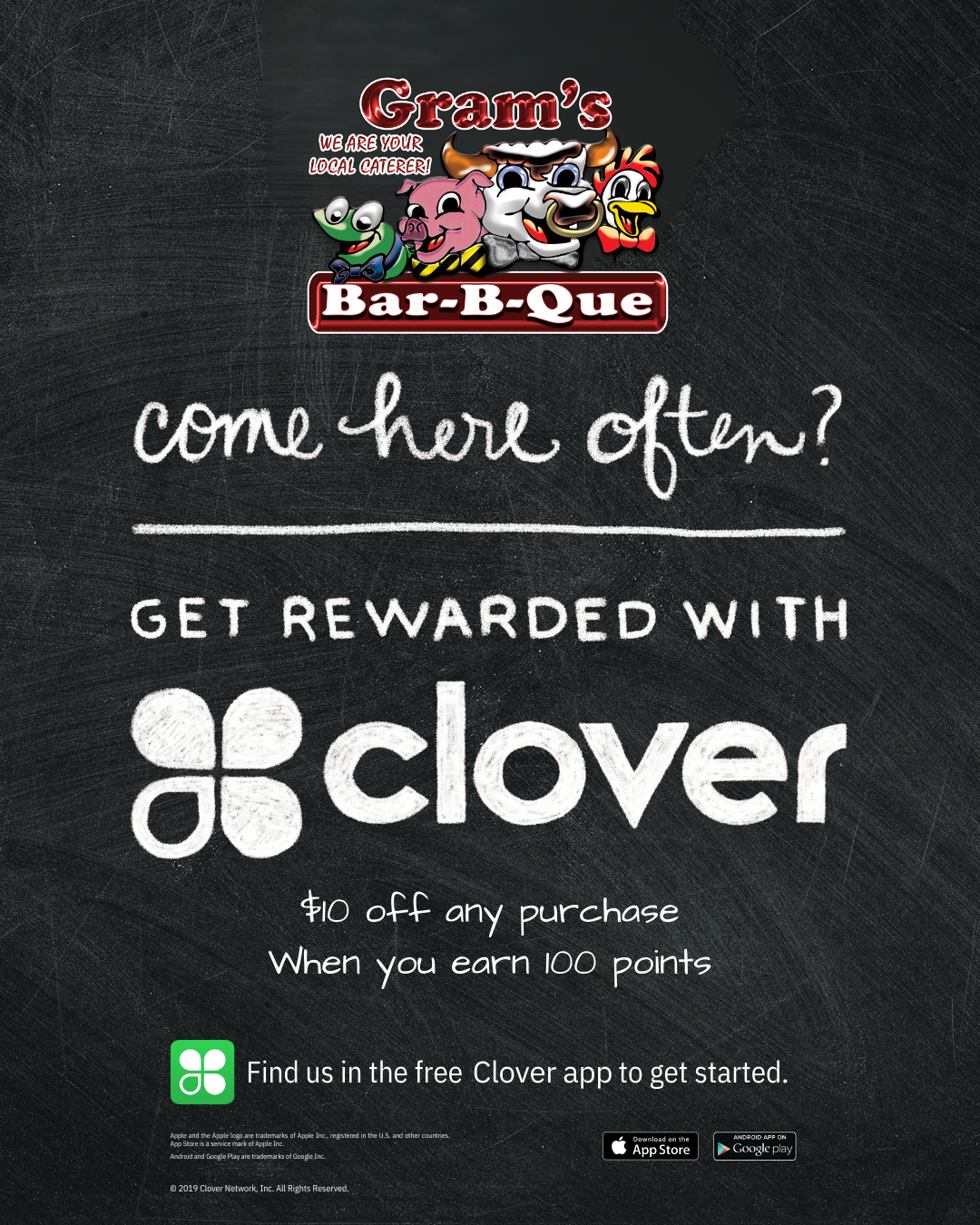 Why Wait? Get Started Now!
Ready to join the BBQ party? Here's how you can get in on this smokin' deal:
Download the Clover App: It's free and super easy to use! Available on both the App Store and Google Play.
Sign Up for Gram's BBQ Clover Rewards: Enroll right from your smartphone or the next time you're at our joint. Our friendly staff is here to help you get started!
Start Earning Points: With every delectable bite, you're not just satisfying your BBQ cravings; you're earning points towards mouth-watering rewards!
Redeem Your Rewards: Got enough points? Redeem them for some delicious discounts and make your BBQ experience even sweeter!
Join the Gram's BBQ Family!
At Gram's, you're not just a customer; you're family! And family deserves the best – the best BBQ, the best times, and the best rewards. So, what are you waiting for? Become a part of Gram's BBQ Clover Rewards today and let the good times roll!
See y'all soon at Gram's BBQ!